Visit our Male Breast Reduction page
Although rarely talked about, gynecomastia is a fairly common condition for men. This involves the overdevelopment of breasts and can lead to feelings of insecurity and embarrassment.
You don't have to live with it! Dr. Patino offers male breast reduction to the men of Oakland, Berkeley, and surrounding areas of California — view our before and after photos below.
Photo Gallery
View All 3 Gynecomastia Results
View All 261 Results
Featured Galleries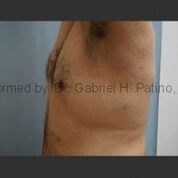 Gynecomastia
Age:

Gender:

Ethnicity:

Height:

Weight:

Gallery:

27071
---
Age: 30 – 39
Gender: Male
Ethnicity: Hispanic
Height: Over 6' 0"
Weight: 150 – 199 lbs
---
Please note, that results may vary according to the individual patient, and the results shown here of our actual patients can not be guaranteed.
For information on pricing, view our male breast reduction financing  page.

For more information on our practice, view our Facebook Page.
At The Cosmetic Surgical Center of El Cerrito, we specialize in surgical and non-surgical cosmetic surgery, skin rejuvenation, and hair restoration to achieve youthful and natural results for the residents of Oakland, Berkeley, and surrounding areas of California. Contact us today for a FREE initial consultation.